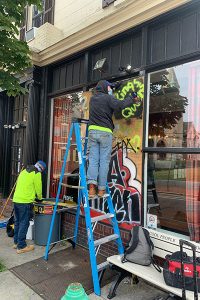 Eureka Metal & Glass Services, Inc. performed a recent service project in support of the Architectural Glass & Metal Association Small Business Community Relief Fund. The fund assists Philadelphia small 'mom-and-pop' business owners suffering as a result of storefront damage sustained during COVID-19 closures and riot damage. The non-profit associated with the fund uses the collective expertise of the local glazing industry to serve affected communities by providing skilled glaziers and qualified glazing contractors to repair retail storefronts, windows, and doors.
Eureka donated labor and miscellaneous materials to the first project in the Germantown Avenue Commercial Corridor scope of work. Uncle Bobbie's Coffee & Books in the 5400 block of Germantown Avenue was repaired on September 16. The scope of work included assessing existing conditions, determining glass size, shipping materials to the site, as well as removal of boarding, preparing the opening, and installing new glass. GEI donated the glass and the fund covered additional costs beyond glass and labor.
"In most cases, this damage was caused by opportunistic individuals and the victims are the small shop owners and local residents," explained Eureka President Terry Webb. "Eureka started our business in Germantown, so we feel especially moved to help owners get their economic engines revving again for the community's benefit."
Webb and Eureka glaziers have visited eight additional shops to measure and prepare for repairs that are scheduled in the near future.